MCP
(monocalcium phosphate)
One of the best sources of phosphorus and calcium for feed
Monocalcium phosphate (MCP) is used in all animal feeds. Good solubility in citric acid and water makes MCP one of the best phosphorus and calcium source recommended for use in concentrates, compound feed, mineral feed and other feed for cattle, pigs, poultry and all other animals.
A feed grade monocalcium phosphate is produced by reaction of purified and de-fluorinated phosphoric acid with calcium sources in a granulator at precise conditions. After granulation, product is screened and transported to silo for further handling. Strict quality control of phosphoric acid extracted from EuroChem's own apatite mine ensures excellent quality including a minimum level of undesirable elements, particularly Cadmium.
MCP should be stored in dry place protected from moisture and precipitation, separately from fertilizers, chemical products and other materials. Not classified as hazardous under transport regulations.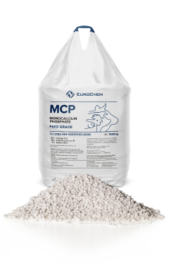 Product benefits
High concentration of bioavailable phosphorus
Ca : P ratio 0.7 : 1
Minimum level of undesirable elements, particular Cadmium
Consistent quality
Excellent physical quality for easy handling and uniform dispersion in mixed feeds and minerals
Nutrient composition
Phosphorus (P), %, not less than

22.7

Calcium (Ca), %, not less than

16

Relative solubility of Phosphorus (P) in 0,4 % HCl, %

98

pH (1 % solution), not less than

3.3

Moisture, %, not more than

3
Document downloads