DFP
(defluorinated phosphate)
High-performance feed material for animal feed/premix production with a high concentration of soluble phosphorus form.
DFP (defluorinated phosphate) is non-hydroscopic and free-flowing powder or granules, from light-brown to dark-brown colour. It is produced from Kovdor apatite concentrate in a carefully controlled process in presence of phosphoric acid and sodium source. This process distills fluorine and provides the formation of bioavailable phosphorus.
DFP is used in all animal feeds and premixes. Good bioavailability of nutrients makes DFP an important source of P, Ca and Na in products of concentrates, compound feeds, mineral feed and other feed for cattle, pigs, poultry and all other animals.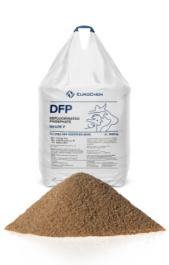 Product benefits
High concentration of bioavailable phosphorus
Calcium-Phosphorus-Ratio: 1.6-1.7
High nutritional density
Extremely low contents of undesirable substances, in particular Cadmium
Easy handling and uniform dispersion in mixed feeds and minerals
Nutrient composition
P, %, min

18

Ca, %, min

30

Na, %, min

5

F, %, max

0.2

As, mg/kg, max

10

Pb, mg/kg, max

15

Cd, mg/kg, max

10

Hg, mg/kg, max

0.1

Moisture, %

0.1–0.2

Bulk density kg/m³

1450–1500
Document downloads