Croplex 12-40-0 (+10S)
Quick start and steady growth
EuroChem Croplex is a balanced nitrogen-phosphate starter fertilizer for direct application, ideally suited for early growth stages.
Croplex allows for the direct application of essential crop nutrients without concerns of blend segregation. Sulfur supports optimal nitrogen use and promotes yield and quality gains. The supplemental presence of sulfur in both sulfate and elemental forms satisfies immediate nutrient uptake requirements while also ensuring longer-term availability.
Everything is combined in one homogenous granule to allow easier application and even spreading of nutrients. Croplex represents visible quality, from granule size and color, to field application, to plant growth.
Croplex helps to establish growth, increasing yields and crop quality.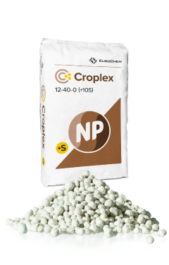 Product benefits
Essential nutrients: nitrogen, phosphate and sulfur working together to grow more
Promotes optimal nitrogen usage: sulfate and elemental forms of sulfur ensure rapid uptake and longer-term availability of nitrogen
Consistent application: homogenous sized granules ensure consistent and even nutrient distribution
Sustainable product: low heavy metal content
Visible quality: distinctive color and uniformity of size and shape
Nutrient composition
Total nitrogen (N)

12,0%

Phosphorus pentoxide (P₂O₅)

40,0%

Phosphorus pentoxide (P₂O₅) soluble in water

38,0%

Total sulfur (S)

10,0%

Sulfur trioxide (SO₃) corresponds to

25,0%

Water soluble sulfur (S)

4,2%

Water soluble sulfur trioxide (SO₃) corresponds to

10,5%
Sulfur deficiency is a worldwide problem which is gradually growing and negatively affecting yield volume and quality.