Aqualis® MAP solub
Great source of potassium in fertigation
Aqualis® MAP solub is a fully water soluble monoammonium phosphate fertilizer in the form of a free flowing, crystalline powder. Its main role is as a P fertilizer in fertigation programs: for all fertigated crops under drip irrigation, sprinkler systems, for fertigated greenhouses, vegetables, fruits and flowers in any growing medium, as well as open fields and orchards.
Aqualis® MAP solub is specially recommended in the first stages of growth of plants, when the availability of P is critical for the establishment of root system and the combination of P and N are desired.
The acidic pH of the Aqualis® MAP solub increases the availability of the phosphate and the micronutrients
® = Registered U.S. Patent and Trademark Office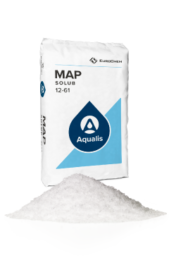 Product benefits
MAP solub contains both nitrogen (as ammonium, NH₄) and phosphorus (as phosphate, P₂O₅), which are immediately available to plants, suitable for rapid uptake by the crop.
High in P, main role as a P fertilizer in fertigation programs.
Can be used as the sole P source throughout the growth period for any crop.
100% assimilable nutrients, ensuring total availability of nitrogen and phosphorus to the plant.
Chloride and sodium free.
White, fully water soluble and practically free of impurities and residues.
Quickly dissolves to a clear solution with no clogging of the irrigation system.
Non hygroscopic and free flowing.
Moderately acidic.
Acidifies the solution thus increasing the availability and uptake of P and micronutrients.
Eco-friendly: negligible amounts of heavy metals.
No residual contaminants or hazardous residues.
Safe and easy to store and use.
Available in 25 kg bags and big bags.
Nutrient composition
Nitrogen (NH₄-N)

12,0 %

Phosphorus pentoxide (P₂O₅)

61,0 %

Phosphorus (P)

26,6 %

Solubility (20°C)

380g/L water

EC (0,1 % at 25°C)

0,8 mS/cm

pH (5% solution)

4,5

Form

Crystalline

Colour

White