Nitrophoska®
Nitrophoska®, the original complex fertilizer offering balanced nutrition tailored to plant needs and trusted by farmers the world over for more than 85 years.
All nutrients in one granule
Nitrophoska®, the world renowned original complex NPK fertilizer trusted by farmers for over 85 years.  High crop yields and a good-quality harvest mainly depend on adjusted and balanced plant nutrition. Nitrophoska® contains up to five main nutrients in a form that is immediately available for plant uptake. This guarantees an optimal supply of nutrients, even during critical phases of growth. To supply plants optimally with all the required nutrients, the specific needs of crops must be considered. Our broad range of Nitrophoska® fertilizers allows farmers to choose the optimum nutrient solution according to specific plant needs and soil conditions.  Nitrophoska® provides balanced plant nutrition tailored to plant needs.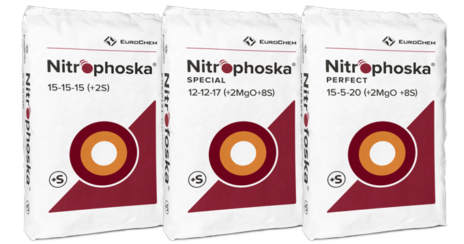 Nitrophoska®
product benefits
Complete nutrient supply for the whole crop rotation: all nutrients combined in one granule
Improved yield and crop quality: ready available nutrient forms precisely adjusted to crop needs
Consideration of plant specific sensitivities: MOP and SOP formulas available
Continuous and demand specific nutrition: two directly plant available nitrogen forms: ammonium and nitrate
Excellent storage and precise application: great granulation for even distribution of nutrients in the field, no segregation even at working widths of over 40 meters
Operational savings and flexible application: reduced number of applications and better soil conservation